Advantages of Rotary Die Cutting
Rotary die cutting is a manufacturing process used for operations such as laminating, die cutting, and kiss cutting. Because of its ability to produce high volumes at a quick pace with little waste, rotary die cutting is often chosen over traditional flatbed presses for custom designed die cut components.
Rotary die cutting uses machined metal dies and an anvil, a cylinder-shaped machined component. Cutting occurs between the sharp edge of the die and the smooth surface of the anvil. Tooling costs are more expensive than with conventional steel rule dies, but rotary dies have the advantage of lasting for a longer period of time. These machined components also support reliable, high-speed cutting for high volumes of parts. Compared to traditional die cutting and digital knife cutting, a rotary die's greatest advantage is its speed.
Rotary die cutting has the ability to achieve part tolerances of ±.010", varying based on the material, size and complexity of the desired part. The depth of the cut can be controlled precisely to facilitate kiss cutting, and the cuts are consistent since rotary dies are machined from a single piece of tool steel. Rotary die cutting is more commonly used with rolls of materials, and is more suitable for thin materials and films less than 0.062". By spreading rotary die cutting's higher tooling costs across a high volume of parts, this technique becomes cost-effective.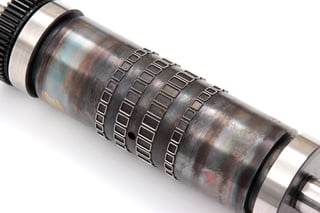 Applications for Rotary Die Cutting
Interstate Specialty Products uses rotary die cutting for a variety of applications including medical and scientific, electronics, and industrial. Examples include:
Point-of-care diagnostics
Microfluidic components and devices
Precision diagnostic lamination
In vitro diagnostic consumables
Consumer products
Electronic vents
Sound diffusers
For high volumes of high-quality die cut products, rotary die cutting offers a strong combination of speed and precision. In addition, rotary die cutting supports the use of pressure-sensitive adhesives (PSAs).
Is Rotary Die Cutting Right for Your Application?
Although rotary die cutting has its advantages and applications for high volume applications, this production technique isn't right for every application. For low-to-medium volume production runs, thicker materials, and sheet materials, precision die cutting is generally the right choice. For applications in the prototyping phase, digital die-less knife cutting offers quick turn-around times without tooling costs or long lead times.
For more information about our rotary die cutting, and to learn more about Interstate's precision die cutting and digital die-less cutting capabilities, please contact us.
*Properties and applications shown throughout this website are typical. Your specific application should not be undertaken without independent study and evaluation for suitability.